There are many reasons to start a nonprofit in Florida. They can be started for personal endeavors, charity organizations, or business ventures.
Whether they are created with one person's efforts or by an established entity such as a local organization, there are many benefits to creating a nonprofit in the state of Florida.
The state is perfect for starting a nonprofit because it has lots of opportunities for collaboration and grants that come with starting your own organization.
Start your Nonprofit in Florida in a few steps.
There are few steps to take when you are beginning the process of creating a nonprofit in Florida. Start by looking up the requirements and grant opportunities that you can take advantage of before starting your organization.
Your city or county may have specific regulations for becoming a nonprofit, so be sure to check with them as well as your state government before applying for grants or starting your own endeavor.
The main steps to start a nonprofit in Florida are:
Name Your Organization:
The business name you choose for your nonprofit should be set in stone from the beginning. This is a permanent aspect of your company because names cannot be changed easily. Many organizations and businesses with similar names have been around longer than yours.
Don't start your organization until you have found the perfect name for it.
Recruit Incorporators and Initial Directors:
The next step is to recruit people who will be the actual directors and incorporators of your company. These individuals become legally responsible for all that happens within your nonprofit, so you want to choose them carefully.
Anyone can fill this role, but you may want someone with more experience in non-profit management than a friend or family member. You will need at least three directors.
Tips on choosing directors:
Choose directors with varying backgrounds so that you have a diverse group of people who can represent their groups.
Choose your initial directors based on the needs of your organization. If you are starting a charity organization, look for someone from the community to represent them or if you are creating a business venture, then seek an expert in the field to help guide your company.
Make sure that your initial directors are willing to give you a lot of their time and energy for at least four years. Businesses can take a long time to become established, so be patient during the early stages of your company's success.
Prepare and File Articles of Incorporation:
Once you have the name and directors, it is time to prepare your articles of incorporation. This form must be filled out by every organization in Florida that is not a business.
Be sure to include all pertinent information about your company on this document, including who the board members will be, what their roles are, personal information about yourself such as your contact information and address, what type of nonprofit you are or will become and your bylaws.
The next step is to file this document along with a fee at the Division of Corporations in Tallahassee. It takes about 4-6 weeks before your documents are processed. You can call any time during that period to check on your application.
Appoint a Registered Agent:
For every nonprofit, the Florida Department of State requires that you appoint a registered agent for your organization.
This is an individual or entity responsible for receiving legal documents on behalf of your company, such as court summonses and service notices.
You will have to file this information with them as well when you start a nonprofit in Florida.
Choose a Location:
You will also need to choose where your organization will operate on a permanent basis. It is best if the location of the organization is centralized so that it can be easily accessed by everyone involved.
Most large cities have offices available for rent that you can lease, or you may decide to purchase office space if you have enough capital at your disposal.
Your location should also comply with the state requirements, so check zoning regulations and building codes before signing a lease or buying premises.
Create Your Bylaws:
Every nonprofit in Florida needs to create bylaws for its organization. These are documents that define how your company will be run as an official body.
It should include the mission statement, the duties of your officers and directors, as well as other ongoing responsibilities to be kept by you or your business.
The California Association for Nonprofits is a great resource for creating nonprofit bylaws that can be used in Florida.
You will have to file these documents with the Division of Corporation when you start a nonprofit in Florida. They will be available for anyone to view, so it is helpful to have them prepared in advance.
Get Your Tax-Exempt Status:
Once these steps are accomplished, you can focus on your core mission by applying for tax-exempt status with the IRS and Department of Treasury in addition to any local sales taxes.
File Initial Report:
When you start a nonprofit in Florida, you will be required to file an initial report within six months of the date that your company was authorized.
This report will include all of your directors and officers along with their addresses, the length of time they have held these positions, your bylaws, and any other information pertaining to your legal organization.
This information will be available to the public, so you should have it prepared well in advance.
Your organization can also apply for tax-exempt status in Florida as a charitable organization at this point if you wish.
Applying is a very extensive process that requires working with an attorney familiar with nonprofit law and completing multiple forms and documents, including your bylaws and initial report.
Obtain an Employer Identification Number (EIN) :
Nonprofit organizations in Florida that employ workers will also need to obtain an Employer Identification Number (EIN). This is a unique number that identifies your company as a business entity.
The EIN can be obtained by applying through the IRS website. They offer comprehensive instructions on how to apply along with details about which documents you will need.
Once your EIN has been issued, you can use it whenever you need to report taxes or register for licenses.
Public charities will need to complete a Nonprofit Organization Annual Report every year (Form FLLC-13NP). This form is filled out by the nonprofit's president and includes details about your business that is filed with the state.
It is also due by the 15th day of the 5th month after the end of your fiscal year. Public charities are subject to paying a gross receipts tax which will be applied automatically if you have revenues that exceed $25,000 in a single year.
Store Nonprofit Records:
Because of the public nature of legal documents filed with the state when you start a nonprofit in Florida, it is important to ensure that your records are easily accessible and organized.
You may want to store hard copies of these files on-site so that they are always available should you need them and transfer electronic documents to a personal computer or external storage media.
You should also keep a copy of the documents that you send off with your registration so that they can be filed in case your original is lost or damaged.
Nonprofit organizations in Florida, such as corporations and charitable trusts, are required to register with the state within 30 days of becoming incorporated or formed. This includes religious institutions and nonprofits formed to assist churches or religious organizations.
It is important to note that affiliates and subsidiaries of other nonprofit organizations are not required to register with the state.
Required Documents:
You will need documents to start a nonprofit in Florida include your application for exemption, articles of incorporation, an initial registered agent certificate, a corporate resolution authorizing the sale of capital stock, and an initial application for tax exemption.
These documents should be filed with the Department of State in Tallahassee.
Establish Initial Governing Documents and Policies:
The choice of governing document for your nonprofit organization will largely be determined by the nature and purpose of your business.
For example, if you are starting a nonprofit charity in Florida that is not formed as a trust or corporation, then your articles of incorporation will need to include at least five trustees who can serve on the board along with any additional members of your venture.
The identity and professional qualifications of the directors must be included in your articles of incorporation, as well as any requirements to become a director, such as holding office for a certain length of time or specific educational attainment.
After you have formed your nonprofit corporation or foundation, it is important to decide upon policies that will govern the operations of the venture. These will be set out in the corporate by-laws, and you can include policies regarding charitable giving, fundraising, hiring practices, and other matters that are of importance to your nonprofit organization.
Hold Organizational Meeting of the Board of Directors:
Holding an organizational meeting of the board is a vital step in starting a nonprofit in Florida. This will allow you to appoint directors, establish your goals and objectives, and set out the procedures that you will use when making important decisions about your organization.
You should also consider adopting bylaws for your organization, such as conflict-of-interest guidelines and other rules regarding the behavior of your directors.
With a few simple steps, you can set up your nonprofit organization in Florida and begin to get involved in charitable activities that will help make life easier for people across the state. Becoming a recognized nonprofit is not hard when you have access to the right information and incorporate it into your plans to start a nonprofit in Florida.
Get Florida State Tax Identification Numbers/Accounts:
In addition to state registration, your Florida nonprofit corporation will need to obtain Florida State Tax Identification Numbers/Accounts: F001,F002,F003,F004. These are free and must be obtained when you file for incorporation.
Each Account is separate but related to each other as part of the whole organization. They can be opened in any order, but the F001 is required for all of them. The tax accounts are lead to federal 501(c)3 (pending approval).
Apply for 501(c)3 IRS Tax Exemption:
After your not-for-profit corporation has been in good standing for a year, you can apply for 501(c)3 tax exemption. This process is long and requires several submissions to the IRS.
In addition to applying for federal nonprofit status (Puerto Rico applicants must apply with state of residence), you will need to apply for a sales tax number and an Employer Identification Number (EIN). This can be obtained online at http://www.irs.gov.
As a separate filing, you will need to register with the Florida Department of Internal Revenue Service and obtain your Sales Tax Permit Number through them. This permit number you will need for sales tax reporting to the state of Florida. The initial cost is $20, and annually it costs $50.
This process is detailed and takes many months, but it is well worth getting your nonprofit corporation registered as a 501(c)3 organization. You can apply online through the IRS' website at http://www.irs.gov/charities/article/0,,id=96182,00.html.
The IRS will make a determination on your application within 90 days of receiving all required documentation and filing state fees. Once approved, you should receive an official response letter from the IRS. If not, call or send a written inquiry to find out why.
If your request is denied by the IRS, you can appeal the decision with their Appeals office.
How Much Does It Cost to Incorporate a Florida Nonprofit?
The fee for filing articles of incorporation or organizing a Florida not-for-profit corporation is $125 if you are a professional corporation and established as a domestic for-profit entity. If your organization has any non-professionals on the board, the fee will be $200.
In addition to the filing fee, Florida law also requires you to file a Statement of Information within 90 days after you are incorporated.
Costs will vary depending on your organization's circumstances and activities in the state. The following is an example of what it might cost for certain organizations:
Example 1: Professional Corporation
The following figures are based on an organization incorporated under the Florida Non-Profit Corporation Act (FNC). These revenues and fees may not be applicable to all corporations. If you have any questions, please consult with your attorney or CPA.
Annual Revenue: $25,000 (no more than $1,500 of which is earned from fundraising activities)
Florida Board of Accountancy: $10
Annual Report (due Mar. 1): $50
Statement of Information (due within 90 days after incorporation): $25
Total Florida Nonprofit Corporation Costs: -$125 (federal tax ID number also needed to obtain exemption certificate)
You can save up to $90 if you file an annual report online. Please visit our website at www.sunbiz.org/annualreport.
The fees for the following applications are non-refundable and subject to change without prior notice: Articles of Incorporation, Annual Report (Form ANN), Statement of Information (Form ENT), Application for State Tax Exemptions (Form 501), Office Use Only Application for the Preparation of Nonprofit Corporation Formation Documents (Form NCD).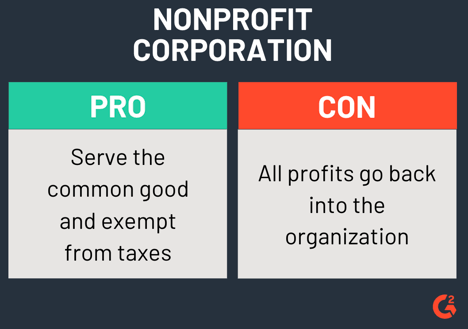 Benefits and drawbacks of Non-Profit in Florida
Benefits:
Personal liability protection. A nonprofit corporation is a legal entity that separates the assets and liabilities of its members (owners). The owners of the not-for-profit corporation are generally not liable for any debts or actions made by the organization as they would be with a private corporation. There are some exceptions, so it is important to understand the dynamics of this protection.
Tax benefits when organized as a 501(c)(3). Federal tax exemption is automatically provided you qualify, and there is no need to seek special approval from the IRS (this can be done in conjunction with state filing). For federal purposes, a Florida not-for-profit corporation is automatically disregarded as an entity separate from its owner(s) for income tax purposes. In Florida, all not-for-profit corporations are taxed like partnerships and trusts (that is, they pass through the profits or losses to the owners).
Your organization can be up and running in as little as three weeks after filing nonprofit Articles of Incorporation with our office.
No requirement to have a board of directors – make all the decisions yourself!
Your not-for-profit can operate in any business sector except prohibited businesses such as gambling, liquor, tobacco, and adult entertainment. As long as you are operating within your tax exemption status from the IRS, you can do anything legal that a for-profit business can do.
Your corporation is required to hold regular annual meetings of its members for the purpose of electing officers and directors (in addition to any other actions that might be taken). You will not have to file these meeting minutes with our office unless you are incorporated as a mutual benefit or religious corporation.
Corporate income tax on net income. A for-profit corporation generally pays corporate income tax on the amount of its taxable income at the state, county, and municipal levels. Florida does not have a corporate income tax on profits. However, losses that your organization incurs are carried forward on a carryover basis to future years until they are used up or expire upon the dissolution of the corporation. Non-profit corporations are not subject to any regular state income tax on profits.
No sales or use taxes for your organization. Florida does not impose a tax on the purchase of goods and services by non-profit corporations, churches, governments, charities, or schools. Some local taxing jurisdictions do impose such taxes though, so you should contact your county tax collector or city clerk to see if any local taxes are imposed.
Certain professionals who do not otherwise have a business need can incorporate and operate as a non-profit corporation in Florida with no minimum capital requirement (schools, hospitals, etc.). Professional corporations must be formed for the benefit of the public.
Drawbacks:
A board of directors must be elected in order to operate your Florida non-profit corporation. The number of members on the board can vary but generally will consist of three or more individual people, with at least one being a resident Floridian. A director or member can be compensated for their work with the organization.
A majority of the directors (or members in the case of a mutual benefit corporation) can vote to dissolve the organization at any time. You may be required to file articles of dissolution with our office if your corporation is dissolved or placed into inactive status for a period longer than three years.
Your not-for-profit corporation must have a full-time officer (president, vice president, secretary, and/or treasurer) residing in Florida. This person is responsible for maintaining the corporation's books of account and must keep minutes of all meetings with details of actions taken by members or directors.
You cannot issue stock to raise capital for your organization.
Your corporation is required to obtain a tax exemption certificate from the IRS as your organization may not be tax-exempt in every state.
If you are incorporating for the purpose of raising funds, your solicitation must comply with federal and state regulations, or you will be subject to fines and/or imprisonment.
Your non-profit Florida corporation is required to submit an annual report by March 1 of each year containing the information that is prescribed on our Annual Report Form.
You may have to file sales or other use tax returns depending on your organization's activities in Florida. Contact your county tax collector for more information.
Conclusion
There are specific rules and procedures to follow when organizing your nonprofit corporation. You should consult with an attorney if you have any questions before incorporating.
It is important to note that Florida's Not-for-Profit Corporation Act is a "default" law, meaning it will apply if you do not file Articles of Incorporation or organize your corporation under the BCA.